Morelands and Riverdale Buildings
Hampton, UK
State-of-the-art headquarters
Touchlight was founded in 2007 and has been based at the Morelands and Riverdale Buildings on the banks of the River Thames, London, since 2015. The unique facility is a repurposed Grade II listed Victorian waterworks, with a long history, having originally been built in 1852 to supply fresh water to London's East End to tackle the 19th century cholera epidemic.
The beautiful Victorian buildings have been converted into stunning, iconic research and development and manufacturing facilities that are an inspiring place to work. The high-tech labs, manufacturing suites, meeting rooms and other workspaces maintain many of the building's original features and are now home to a growing staff of over 150 people.
The making of DNA
GMP DNA manufacturing
At the Hampton site, Touchlight manufacture enzymatic DNA, from research to GMP grade, as an active pharmaceutical ingredient (API) or critical starting material for use in advanced therapy manufacturing, including mRNA and DNA vaccines, viral vector production (AAV and Lentivirus), non-viral gene therapy, and genome editing.
The facility comprises 15 state-of-the-art GMP DNA manufacturing suites, with the potential of producing more than 8kg a year, a capacity that exceeds the current global supply of plasmid DNA for genetic medicine.
Facility overview
15 independent GMP manufacturing suites.
2 class B filling suites with class A filling cabinets.
Flexible design to support scale-up and scale-out.
Enhanced filling capability.

Supports ultra-low bioburden and sterility testing of DNA.

Warehousing
GMP production approach

PODSs are simply equipped, with minimal equipment.
Single use product contact equipment throughout.
Product segregation throughout.

Output

Each pod can produce up to 5g batches in 5 days.
Scale-up program to >40g batches in 6 days.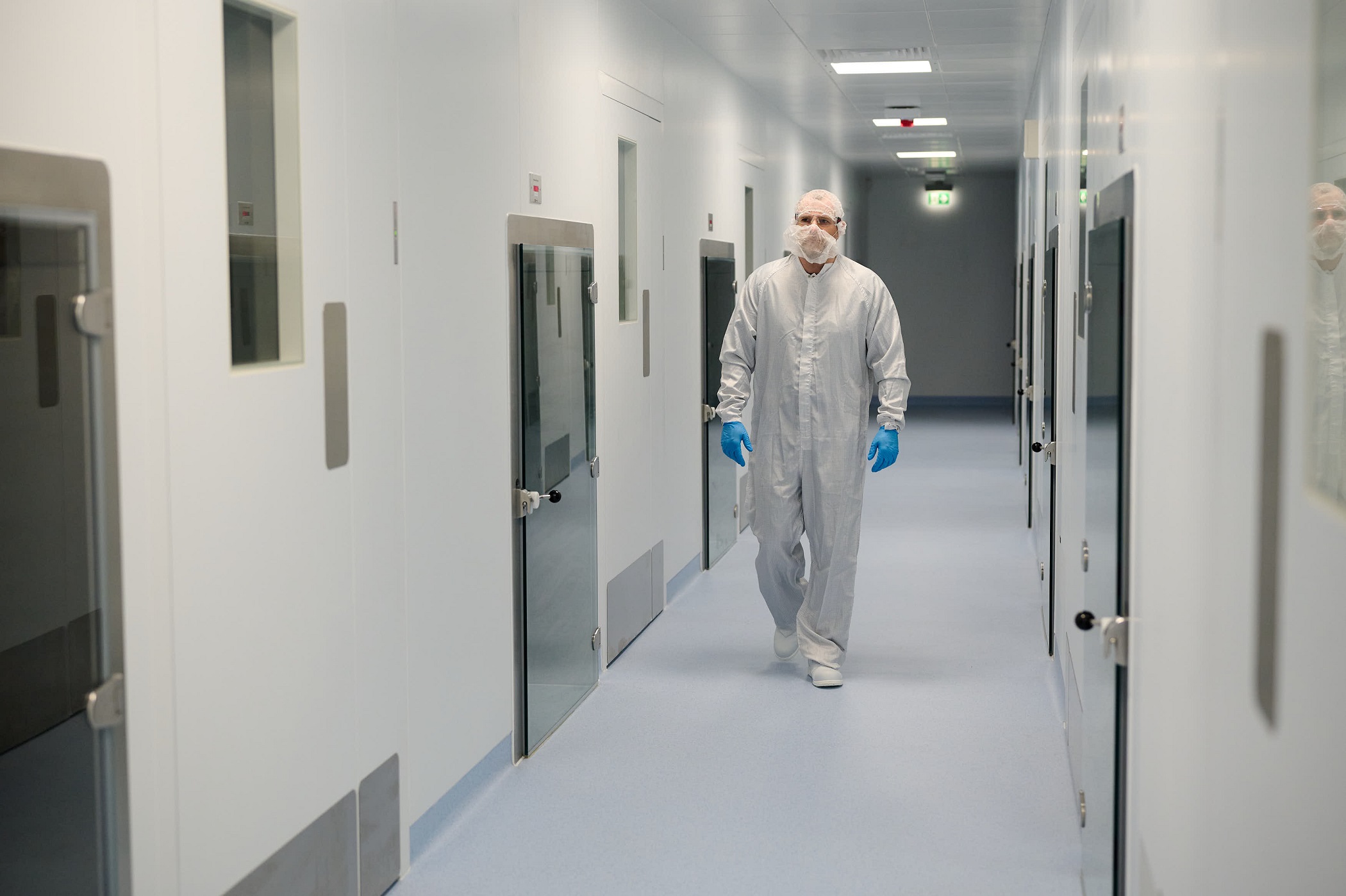 Quality System, established, based on EU GMP Part II (in alignment with ICH Q7)
The facility performs and is monitored to Grade C (ISO7 / Class 10,000) in accordance with ISO 14644-1 and US FED 209D with Grade B (ISO6 / Class 1,000) validated, operated, and monitored bulk filling rooms.  All room classifications in accordance with ISO 14644-1 and US FED 209D
Analytical Development and Quality Control (QC) laboratories

Ultra Performance Liquid Chromatography (UPLC).
Digital and real-time Polymerase Chain Reaction (dPCR/qPCR).
 Electro Spray Ionisation Mass Spectrometry (ESI MS).
Next Generation Sequencing (NGS).
Environmental and contamination monitoring.
Compendial Methods (EP, USP).
Product specific release testing.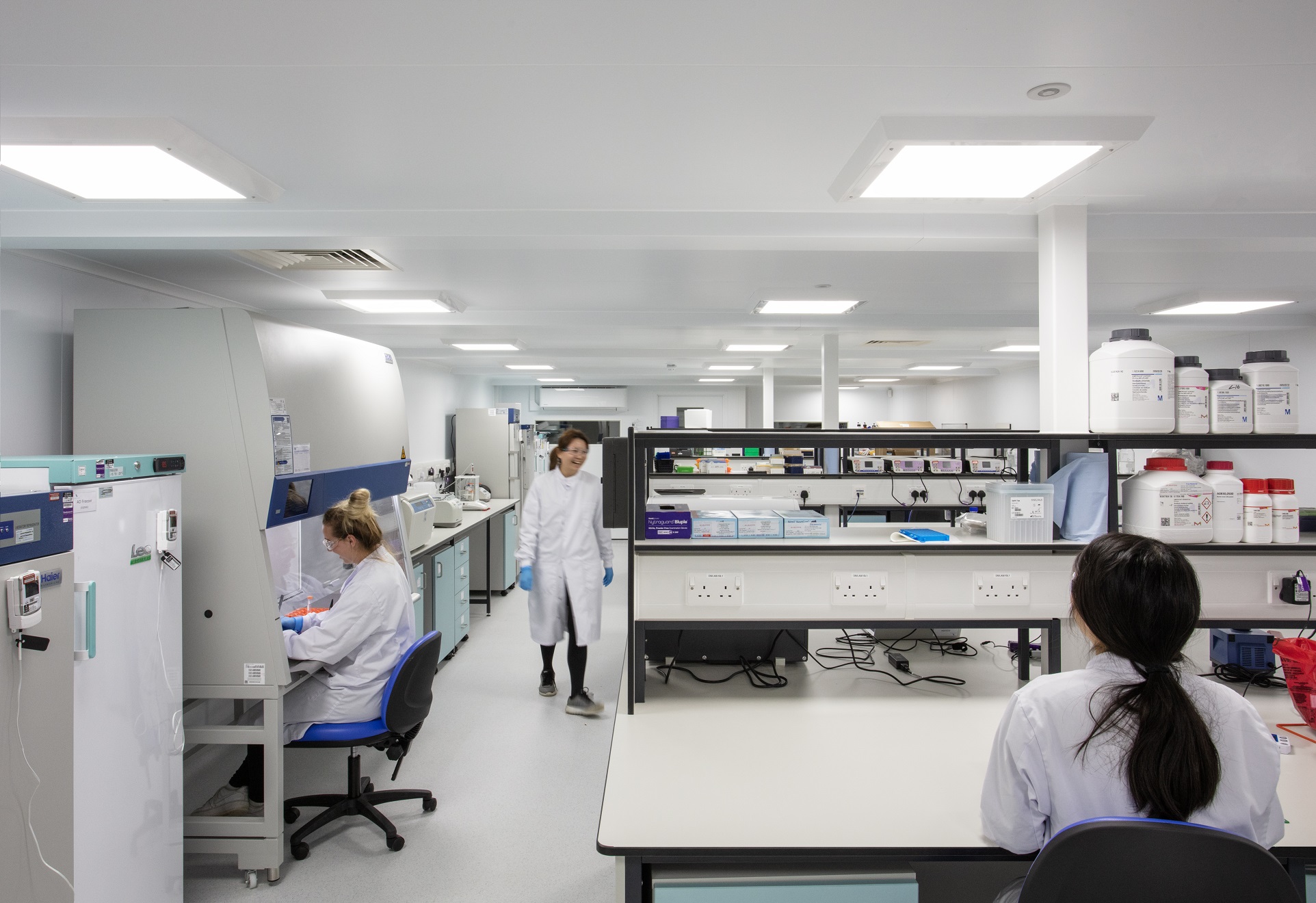 Take a tour of our state-of-the-art facilities
Explore our manufacturing facilities, housing the equipment and resources that power our ground-breaking doggybone DNA (dbDNA™) platform, and see the R&D laboratories and personnel fuelling our technological and applications pipeline solutions.
Get in touch
We're here to help
For more information on how we can help with your project, please get in touch.
Contact us